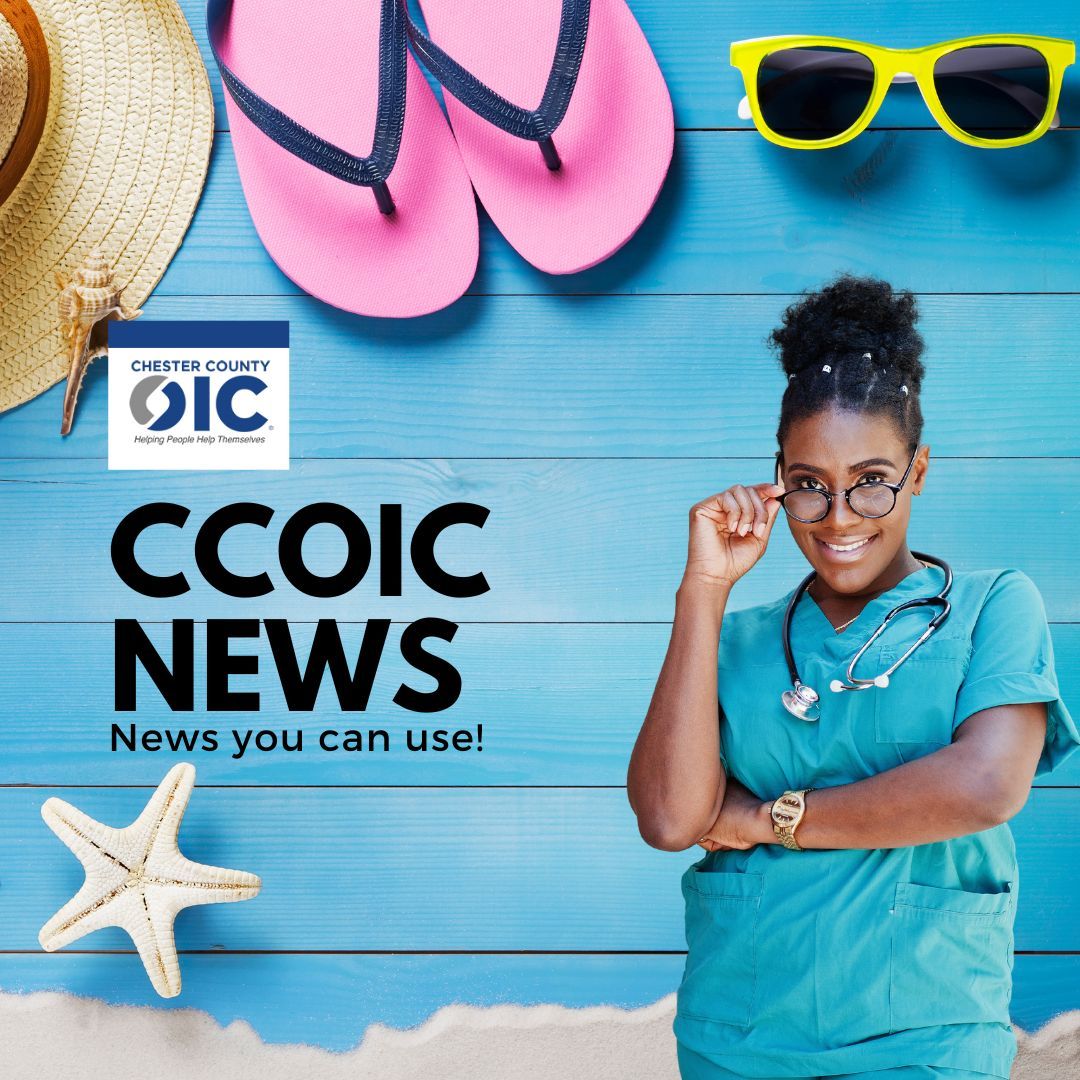 This Week in CCOIC News – Mid July
In the Chester County OIC news this week you will find information on the Wonderfully Me Incorporated Empowerment program, Camp Dreamcatcher volunteering, training from South-Eastern Regional Pennsylvania Task Force, an important reminder from a Child's Light, mental health presentations from Penn Medicine, affordable Wi-Fi, Digital Literacy classes, C.N.A training classes!, Forklift Training, an upcoming Legal Aid Expungement workshop, a Visit from the President of OIC, reflections on the Big Old Kids Party, CareerLink Services events and workshops, job openings, news and information for ESL & GED students, virtual conversation groups (evening and daytime), clothing for employment needs, mental health resources, and a human services hotline (2-1-1).
WORKSHOPS & LEARNING OPPORTUNITIES  

Wonderfully Me Incorporated Empowerment program!   CCOIC is happy to share that registration has begun for girls 8-17 and volunteers/mentors for Wonderfully Me Incorporated Empowerment program.   Find information under VOLUNTEERS on our website: www.wonderfullyme.info. For further questions contact Angela at 484-713-8254.
 
 


CCOIC is excited to share Camp Dreamcatcher volunteering opportunities!   Camp Week: August 21-27 (we need volunteers to facilitate sessions on Monday-Friday of that week)   Location: Camp Saginaw: 740 Saginaw Rd., Oxford, PA 19363   Session times: 9:45-10:45am 11:00am-12:00pm 2:45-3:45pm 4:00-5:00pm   Full or part-time counselors (must be age 18 or above) Therapeutic Volunteers: massage, yoga, psychotherapists, mindfulness, movement, etc.  Health Center: Volunteer in our health center during the week Student Community Volunteers: age 15-17 and help our during the day at camp with recreational programs Registration Volunteers – (this is the general volunteer form on our site): August 21st from 10am – 4pm to help get the kids off the bus and registered and walk them to cabins, etc. Recreational Volunteers (this is on the general volunteer form) for fishing, basketball, arts/crafts, story-time, etc.  

All of the forms are on this site: https://www.ultracamp.com/info/upcomingsessions.aspx?idCamp=315&campcode=cdc&lang=en-Us   Counselors need to attend training that is held at the camp office or virtually prior to camp, and then they must be at camp on August 20-21 for training before the kids arrive on the 21st.    Professional volunteers (therapists, educators, etc.) can be full time or part-time at camp.     


     

CCOIC is pleased to share that the Mental Health Subcommittee of the Southeastern Pennsylvania Regional Task Force is offering virtual training, for the five-county South Eastern PA Region.     These trainings are for first responders and front-line employees who work with individuals within crisis.     Registration is limited, please be selective with who you choose to register for these trainings.   Trauma 102 (7/29/22) 9:00AM – 11:00AM: Basic Skills of Trauma-Informed Care   Trauma 103 (8/8/22) 9:00AM – 11:00AM: Recognizing Vicarious & Secondary Trauma for Professionals     To register for any of these trainings, go to: https://lakesidelink.com/training/sepa-regional-taskforce/   FOR MORE INFORMATION: Please contact Sharon Preston at slpreston@buckscounty.org or (215) 444-2800. Email will likely get you a faster response.    

A Child's Light has an important reminder for parents and caretakers this summer.
 
Penn Medicine Wellness Presentations
Penn Medicine is holding Wellness Presentations in July and August! These presentations are a great resource for improving and maintaining your health! Refer to the extended calendar and visit the website below!
Learn More and Register!
Looking for more affordable internet?
The Affordable Connectivity Program is here to help! From the FCC, this program looks to help families and households struggling to afford internet service.
 

CCOIC and Career Link Services and Events   Hands-On Digital Literacy Courses are underway! (7/6/22-8/31/22)   Classes are on Microsoft Office, Zoom and Social Media. To register contact Javonna Wylie at jwylie@cc-oic.org or text "Digital" to 484-378-9033 or call 610-692-2344. https://ccoic.org/  
Learn more about our C.N.A training Program!
Chester County OIC is offering Certified Nurse Aide training. This is a valuable 128hr- plus course that prepares you for success as a certified Nursing Aide! This course helps participants get better jobs after 3 months!
Visit our CNA page!
A great opportunity for Forklift Training is on July 23rd! Thank you to New Life in Christ Fellowship for hosting
this Event!
CCOIC presents this great Legal Aid workshop! Find out how you can get the legal support you need above!
On January 4th, 2022, Louis J. King II was named the new President and CEO of OIC of America, Inc. After leading one of OICA's most successful affiliates-Summit Academy OIC in Minneapolis, MN since 1995, we were excited to welcome Louis King to Coatesville, as he leads OICA in our on-going mission to engage with all people in underserved communities in order to solve the labor crisis.
Thank you for your visit and hope to see you again soon!
Reflection and Gratitude for The Big Old Kids Party!
 

On June 30th, Coatesville and Chester County residents who had completed education and job training at Chester County OIC came together to celebrate!   CCOIC understands how hard everyone works day in and day out to achieve small victories and big successes. We welcomed current and former OIC program participants, the community, and our community partners to a day of fun and play! We had a great time celebrating and want to thank everyone who partnered with us to make this event possible!    

CareerLink Services!   SkillUp® PA provides Chester County residents FREE online job skills training! Courses are available on the portal. Register for a free account on the PA CareerLink website!  



Visit CareerLink!
Upcoming CareerLink Events!
CareerLink Workshops, Exton PA
19
July 2022
CareerLink Orientation and Training Grant Information session Pa Careerlink Chester County
10:00 AM – 11:30 AM
20
July 2022
Navigating the New Pa CareerLink Website workshop Pa Careerlink Chester County
10:30 AM – 12:00 PM
21
July 2022
Modern Interviewing Pa Careerlink Chester County
10:00 AM – 11:30 AM
22
July 2022
Virtual "How to Use Zoom" workshop Pa Careerlink Chester County
11:30 AM – 12:30 PM
26
July 2022
Panel Interviews Pa Careerlink Chester County
1:30 PM – 3:00 PM
27
July 2022
LinkedIn 101-Expand your Network and Enhance your Job Search Pa Careerlink Chester County
1:30 PM – 3:00 PM
28
July 2022
CareerLink Orientation and Training Grant Information session Pa Careerlink Chester County
   1:30 PM – 3:00 PM
29
July 2022
Virtual "Job Search Engines, Applications and Keyword Tips" workshop Pa Careerlink Chester County
  11:30 AM – 12:30 PM
JOB OPENINGS
Chester County Head Start is hiring!
Visit the CCIU hiring page!
The International Association of Heat and Frost Insulators and Allied Workers are accepting Apprenticeship Applications!


Penn Medicine Penn Medicine is hiring in Chester County! They are nationally recognized for the quality of their healthcare, and you can learn more about Penn Medicine's storied history and present excellence at https://www.pennmedicine.org/about.   Apply to Penn!     Vanguard Banking Relations Relationship Administrator Vanguard is hiring for Banking Relations Relationship Administrator (entry-level). You will serve as an owner for the global enterprise bank account opening, closure and maintenance while also executing and supporting bank operations and improvement initiatives. An undergraduate degree or equivalent combination of training and experience and 3 years of related work experience are required.  
Apply!    

Entry Level Manager Wegmans Have Management experience or interest in management? Wegmans is hiring for Entry Level Manager in Malvern, PA! This shift is full-time and you must be 18 or older. Pay is listed at 19$ to 19.5$ an hour. Visit the website below!  
Apply!    


NEWS & INFORMATION   For free digital access to news and activities for ESL students. Visit the webpage www.newreaderspress.com/news-for-you-online and enter the new code: 086C7A.   If you would like to practice English in a fun atmosphere, you can join the Virtual English Conversation Groups! Please see below the winter 2022 schedule and the attached flyer for more information:   Evening Group: 1st and 3rd Wednesdays of the month from 7 pm. – 8 pm. (Zoom)   Daytime Group: 2nd and 4th Wednesdays of the month from 1 pm. – 2 pm. (Zoom)  


 

ADDITIONAL RESOURCES  
Wings for Success can help women with clothing for their employment needs. They are not a store and their services are free!   They are located in Frazer and Kennett Square, PA. For more information, please check the website at https://wingsforsuccess.org/    

CALL 2-1-1 or TEXT ZIP CODE TO 898-211 if you need help finding health and human services. You can also access their website at https://www.211.org/. Services are available in more than 170 languages and dialects. 2-1-1 specialists provide referrals to:   Basic Human Needs Resources: food banks, shelters, rent and utility payment assistance  

Physical and Mental Health Resources: crisis intervention services, support groups, counseling  
Employment Support: financial assistance, job training, education programs  
Support for Older Adults and Persons with Disabilities: home-delivered meals, transportation, health care  
Youth and Child Care Programs: after school programs, summer camps, mentoring, protection services  
Chester County Emergency Rent; Utility Assistance Program| Chester County, PA – Official Website    
New London Counseling Center is a nonprofit organization committed to supporting individuals & families through quality therapy and education workshops. They feature a sliding payment scale. This means they will accept whatever you feel comfortable paying. They are located at 125 Saginaw Road Lincoln University, PA. You can call (484) 746-3112 or email them at info@newlondoncounselingcenter.com.    

Here are some helpful numbers to support yourself, your family, and your mental health. They can be called at any time.  
Mental Health Crisis Line: 610-280-3270  
Chester County Warm Line: 1-866-846-2722  
Crisis Text Line: text "PA" to 741741 ‌
career development, coatesville, Community Jobs, ESL, GED, jobs, news