ADULT TUTORING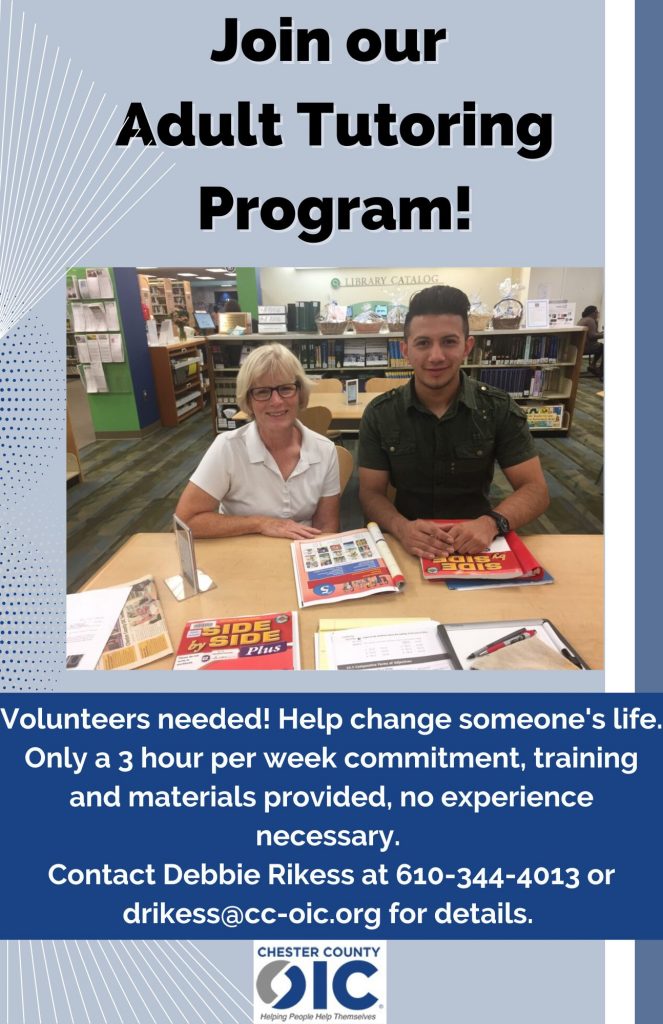 The Chester County Opportunities Industrialization Center (CC-OIC) partners with the Chester County Library, Exton Branch to provide FREE one-on-one tutoring for adult learners (18+) who would like help with:
Reading, writing & spelling
English as a Second Language (ESL)
High School Equivalency/GED, TEAS, etc.
The student meets with his or her tutor at a public location for a minimum of 3 hours a week in order to work on the student's goals. In addition, the student and tutor are able to utilize the Exton Library's Literacy Collection. Contact Debbie Rikess (drikess@cc-oic.org or 610-344-4013) if you are interested in working with a tutor to advance your educational and career goals.
VOLUNTEER TUTORS NEEDED!
Help an adult learner achieve success! Contact us if you are interested in becoming a volunteer tutor and want to help make a difference in someone's life.
The only requirement to becoming a tutor is a High School degree, teaching experience is not needed. Tutor Training is now offered online through the PA Department of Education. We also offer additional training throughout the year at the Chester County Library. Tutors are asked to meet with their students 3 hours per week, usually in two sessions of 1 ½ hours. If you would like more information, please contact Debbie Rikess at 610-344-4013 or at drikess@cc-oic.org.
Thank you for your interest in the CC-OIC Adult Tutoring Program.