Get Involved

Volunteer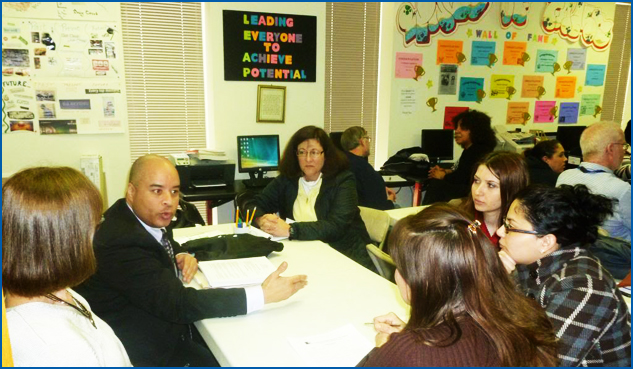 Volunteering at Chester County OIC is such a rewarding opportunity! You have probably heard a lot recently about the call to volunteerism, and you probably know that volunteerism is an excellent way for individuals to help strengthen their communities. If you have a passion for helping others, OIC would like to invite you to serve as a volunteer with one of the premier literacy agencies in Chester County. There are many ways to serve and flexible times that best suit your lifestyle. For example, you may volunteer on a regular basis or "as needed" for special projects.
Volunteering Opportunities
Currently, you could contribute to the work of OIC by volunteering in one of the following areas:
Tutoring
Public Relations
Fundraising
Administration – Office support
Website– Maintenance and content updates
Special Projects
And more!
Help others by sharing your unique gifts and talents. You can also help yourself by gaining valuable experience and meeting new people. Whether you are a college student, a working adult or a seasoned retiree, Chester County OIC can always use your help!
Contact us for more information: 610-692-2344 or info@cc-oic.org.
Wish List
Thumb Drives/Jump Drives/USB Drives
Funding for short-term certification programs (ex. Servsafe and Forklift Training)
SEPTA & KRAPF Bus Passes/Tokens for students that use public transportation
And the following people:
Volunteer Literacy Tutors – Must have 4 year degree and willing to volunteer for at least 3 hours per week.
Please contact Maryann Stravous at 610-260-2605 or mstravous@cc-oic.org

Help raise funds for Chester County OIC by using Goodsearch! This search engine is similar to Google and is powered by Yahoo! Use Goodsearch for everyday activities like searching the web and shopping online. Plus, when you shop, save money with over 100,000 coupons and deals. You browse the internet and help raise money, You shop online and get great deals while raising money for Chester County OIC – It is that simple!
INSTRUCTIONS TO SET-UP AND BEGIN USING GOODSEARCH:
INSTRUCTIONS TO SET YOUR BROWSER START PAGE TO GOODSEARCH:
For Internet Explorer
Go to: www.goodsearch.com
Click 'Sign up' (On the top right corner)
Type Chester County OIC in the 'Search for your favorite cause' section and hit ENTER
Select Chester County OIC – Opportunities Industrialization Center
Check for an email from dogood@goodsearch.com to confirm your account – Open and click "confirm account"
Set Goodsearch as your Browser Start Page (see instructions below)
You are now ready to use Goodsearch to help raise funds for Chester County OIC!
Click on your Internet Explorer icon; you'll find this in your Start menu, or the toolbar at the bottom of your desktop window.
Type in "Google" to IE's search box at the top of the browser window (this is just an example, you can use any website that you want).
Arrive at Google search engine home page.
Go to toolbar at the top of browser, and click on "Tools", then "Internet Options".
At the top of the pop-up, you'll see a "Home Page" box. The address of the site that you are currently at (http://www.google.com) is there. Press the "Use Current" button to specify this page as your home page.
For Google Chrome
On the Google Chrome browser toolbar, click the icon that looks like a wrench.
Click on "Options".
Select "Basics".
Here, you have several options for your home page. You can set your home page with any website you prefer, you can add the "Home" button to your Chrome browser toolbar so you can access that page at any time, and you can also select if you want your home page to be the page that automatically starts up when you initially open Google Chrome.
For Firefox
Click on the Firefox icon to start up your browser.
Navigate to the site that you'd like as your Home page.
At the top of your browser window, you'll see the Firefox tool bar (this includes the words "File", "Edit", etc.). Click on Tools, then Options.
The popup window will open up with the default option of General. At the top of the window, you'll see "Home Page Locations." If you're satisfied with the page you're currently at and would like to set it as your Home Page, click on "Use Current Page."