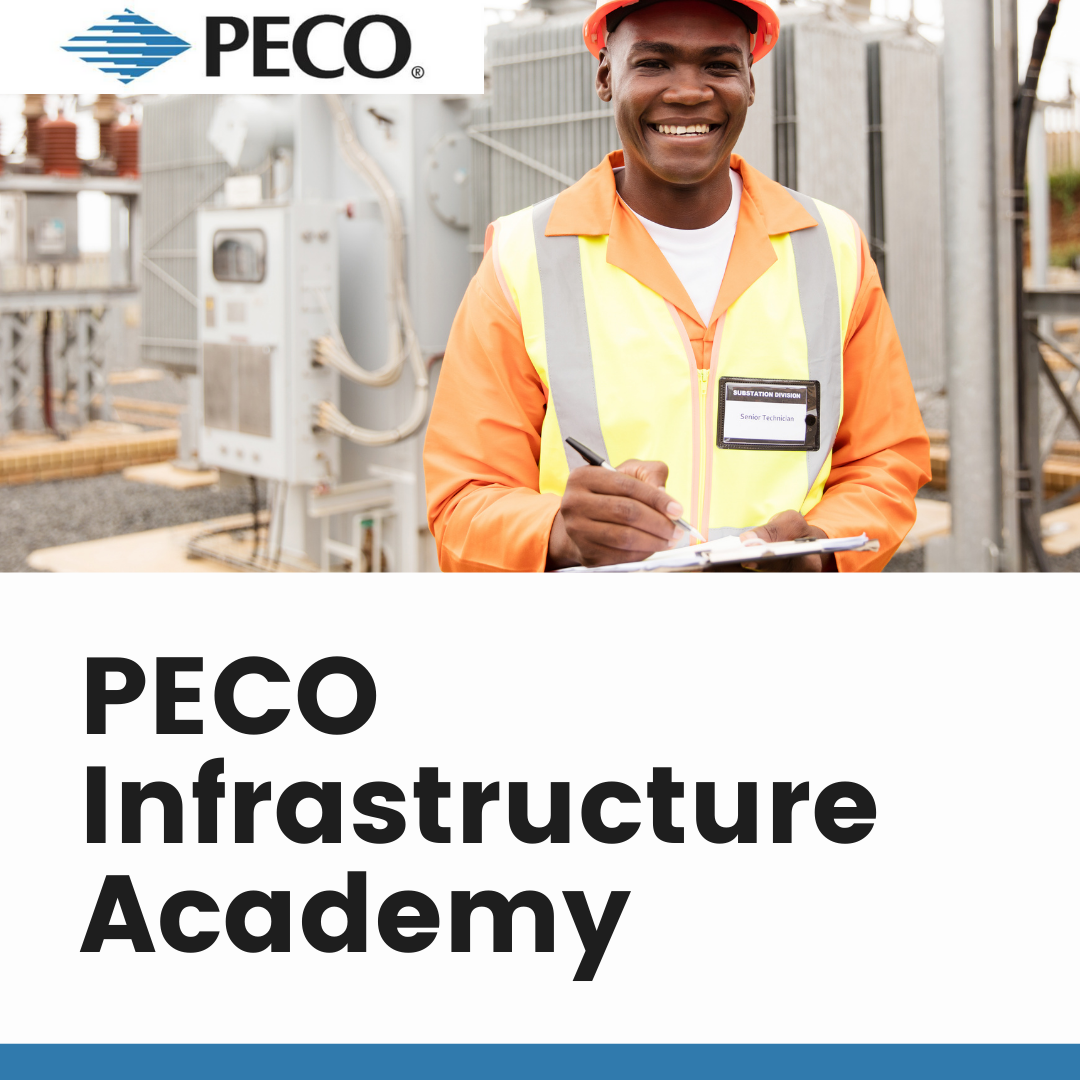 PECO Free Infrastructure Academy.
LEARN MORE!
PECO is pleased to announce that there will be Apprenticeship positions posted in October and November 2021.  Positions will be in both Electric and Gas (PECO is the gas provider outside the city of Philadelphia).  To apply, visit www.peco.com/careers. Please note: Passing the Construction and Skilled Trades (CAST) or AMO test is a condition of employment.
For those interested in applying for the positions, we invite you to attend a free, three-day Infrastructure Academy. You will have the opportunity to learn about PECO and the roles and responsibilities of the Apprenticeships.
Below is an outline of the 3-day Academy:
Day One
• Overview of the company
• Roles and responsibilities of the positions
• Q&A
Day Two
• Mock interviews and tips for a successful interview
• Hands-on skills assessment
• Q&A
Day Three
• CAST/AMO Test overview
• Hands-on skills assessment
• Q&A
The Academy will be held on October 4 through October 6. from 5pm – to 8pm at the Philadelphia Convention Center located at 1101 Arch Street, Philadelphia, PA 19107. Please enter at the 12th and Arch Street entrance. For these sessions, you are required to wear a mask and your temperature will be checked prior to entry. Please plan on arriving at 4:30 pm to allow time for check-in.
Please RSVP via email by September 29, 2021 by emailing pecowfdinquiries@exeloncorp.com. Space is limited to 50 people and admission is on a first-come, first-served basis. Participation in this three-day, Academy does not guarantee employment with PECO.