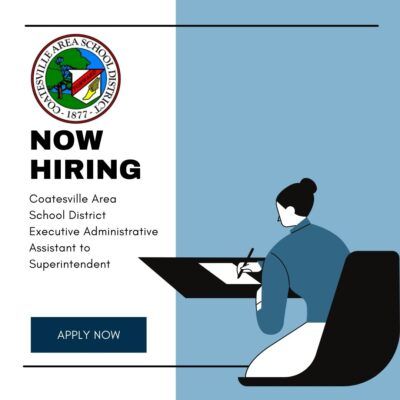 Now Hiring – Executive Administrative Assistant to Superintendent
Coatesville Area School District – Thorndale, PA 19372
Position – Executive Administrative Assistant to Superintendent
APPLY HERE: https://casds.tedk12.com/hire/ViewJob.aspx?JobID=896
Job details
Salary$45,000 – $70,000 a year
Full Job Description
This position performs full executive confidential functions as the administrative assistant to the Superintendent. This position is also responsible for communication duties including attending meetings, taking and transcribing minutes and attending evening and community functions.
Essential Job Responsibilities:
To take and transcribe dictation, often of a technical and/or confidential nature
To prepare and edit routine memoranda, reports, agendas, etc.
To update webpage and social media sites
To act as receptionist for and manage public relations with the Superintendent
To handle scheduling arrangements for meetings and events held by the Superintendent
To plan for important school wide events
To perform other duties as deemed necessary by the Superintendent
Qualifications:
College credits or degree required
Must type at least 50WPM
Proficient with Microsoft Office Suite; advance training in office technology essential
External Candidates: Clearances will be required for applicants selected to move on to 2nd round interviews. This includes: Act 34 (State Criminal Clearance), Act 151 (Child Abuse Clearance) and Act 114 (FBI Clearance). All clearances must be within 1 year of application date.
Job Types: Full-time, Contract
Pay: $45,000.00 – $70,000.00 per year
Schedule:
Work Location:
Work Remotely: