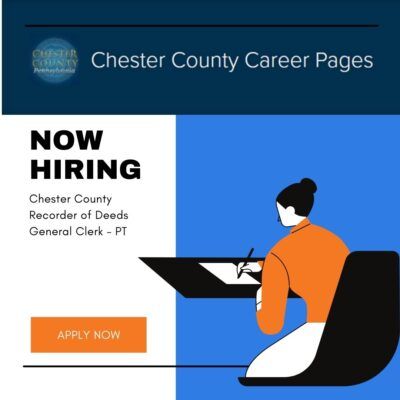 Now Hiring – Part Time General Clerk
Chester County – Recorder of Deeds
Position – Part Time General Cerk
Apply Here
Job Opportunities | Chester County Career Pages (governmentjobs.com)
Summary
Applicant must demonstrate strong attention to detail and accuracy along with a willingness to learn in a dynamic team-oriented environment. Duties are diverse and include customer service, data entry and administrative support. Must have working knowledge of Microsoft Excel and Word and basic Internet skills (for research purposes) and the ability to learn recording software.
Preferred shifts would be Monday, Wednesday and Friday 8:30-4:30.
Essential Duties
Duties, tasks and accountabilities will vary by department and may include the following:
Perform administrative duties (e.g., write, type, or enter information into computer; prepare correspondence, bills, statements, receipts, checks, or other documents; copy information from one record to another, etc.).
Perform receptionist duties (e.g., answer telephone, make outbound calls, convey messages, and run errands).
Proofread records or forms.
Count, weigh or measure material.
Sort and file records.
In some departments, receive money from customers and deposit in bank.
Address envelopes or packages.
Stuff envelopes by hand.
Stamp, sort, and distribute mail.
Stamp or number forms by hand or machine.
Photocopy documents.
Perform special projects, as assigned.
Perform other duties, tasks and office functions, as required.
Qualifications/Preferred Skills, Knowledge & Experience
High School Diploma or General Education Degree (GED).
Six months to one year of job-related experience.
Knowledge and skill with modern office equipment (fax, copier, calculator, etc.).
Strong verbal and written communication skills.
Basic typing skills (minimum of 30 wpm).
Ability to maintain confidentiality and work with confidential information.
Basic skill to use a computer and various software packages.
Ability to use office machines (fax, copier, calculator, etc.).
Accurate and detail oriented.
Ability to deal with all types of people and personalities.
Able to establish priorities.
Preferred Skills:
Ability to work independently and proceed with objectives.
Customer service experience and/or skills.
Ability to follow office protocol.
Strong organization skills.
Ability to multi-task.
Flexible.
Ability to use common sense understanding to carry out verbal or written instructions.
Strong time management skills
Ability to work as part of a team.
General knowledge and understanding of County of Chester policies and procedures.
Additional Information
Computer Skills:
To perform this job successfully, an individual should have:
Basic Word skills
Basic Excel skills
Basic Outlook skills (Calendar and Email)
PeopleSoft skills or the ability to learn PeopleSoft
Basic Internet skills (for research purposes)