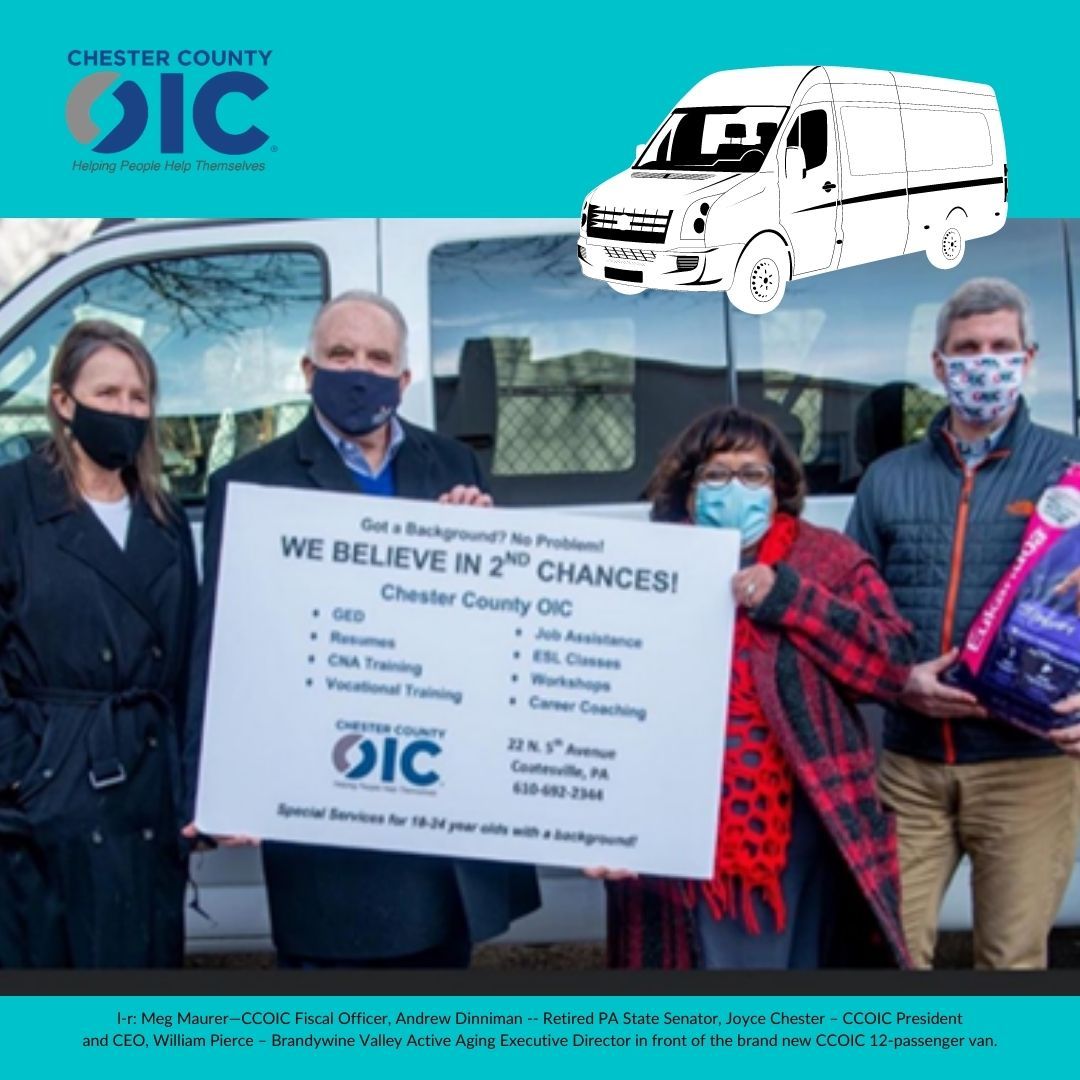 Chester County OIC Purchases 12-Passenger Van with help from Senator Andrew Dinniman
Chester County Opportunities Industrialization Center (CCOIC) recently purchased its first van to be used for transporting program participants to workshops, training, and job interviews. The 12-passenger Chevy van was purchased through a state grant sponsored by (now) retired PA State Senator Andrew Dinniman. In addition to offering transport to students, CCOIC is looking to hire one of its own program participants or graduates as driver.

As said by Dinniman, Job training leading to employment opportunities is the important function of Chester County OIC. I am glad that before retiring from the senate I was able to secure a grant for OIC to purchase a much-needed van to transport those, who they serve, to job training and employment.

With the revitalization of the Coatesville area and increase in local job opportunities, the purchase of a new van has been the perfect antidote to the scarce availability of public transportation in the county. In addition to supporting program participants, CCOIC has pledged to work with the Brandywine Valley Active Aging (BVAA) to deliver free pet food to seniors in the "Helping Paws" program.

BVAA and CCOIC have a rich history of working collaboratively on community-based projects and this new opportunity will have an immediate positive impact on the successful pet food pantry initiative spearheaded by Senator Andy Dinniman. We look forward to working closely with CCOIC to ensure that low-income older adults have access to supplemental pet food keeping their furry companions well-fed and healthy, said Bill Pierce, Executive Director (BVAA).

Chester County OIC has provided adult literacy and workforce services (including English as a Second Language, GED Prep, Certified Nurse Aide Training, Job Placement) in Chester County since 1979. In 2018 the agency purchased a building and moved back to Coatesville PA (from West Chester), its founding home. As a result, employment training programs and community partnerships have flourished, even while faced with the pandemic.

It is our mission and purpose to provide a positive impact to Coatesville where workforce opportunities are concerned. We believe the best social service program is a job, with training as the foundational element to producing family-supporting wages. We are so grateful for the Senator Dinniman's support in purchasing the van as we continue to help others help themselves, said Joyce Chester, President and CEO (CCOIC).