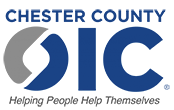 I can't breathe. I can't breathe. Mom. Mom. I can't breathe.
As a mother myself, these words bring instant panic, fear and reaction. If I saw my son, my brother, my nephew, my cousin voicing these words on news feed over and over again, those instant reactions would ultimately move into raging anger.
That's what we see in our streets repeated all over this country.  Chester County OIC wishes to bring honor to the name of George Floyd and so many like him, who have lost their lives in the struggle of being Black or of color in America.