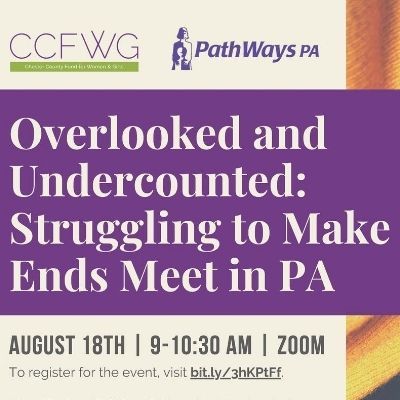 Overlooked and Undercounted: Struggling to Make Ends Meet in PA
Join CCFWG and PathWays PA and hear insight from Joyce Chester, President and CEO of Chester County-OIC in this virtual dive into the latest Self-Sufficiency Standard for Pennsylvania, a report that includes data on Chester County households overlooked and under-counted in the federal poverty level.
To register for the event, visit bit.ly/3hKPtFf.
The presentation will also discuss how COVID-19 has made the climb toward economic advancement even more difficult for local families. Joyce Chester, President and CEO of Chester County-OIC, and Jennifer Lopez, Executive Director of Friends Association, will add dimension to the data by sharing the paths experienced by their clients who are working to make ends meet in Chester County.
Community members, elected officials and their staff, and representatives from local non-profit organizations, foundations, and other organizations are encouraged to attend to listen, learn, and join in on the conversation of the implications and potential actions we can take based on these findings.

BACKGROUND
Census data shows that 13% of households in PA live in poverty. In reality, 1 in 4 households don't have the income they need to reach self-sufficiency. Since 1997, PathWays PA has calculated The Self-Sufficiency Standard for Pennsylvania, which documents the increase in the real cost of living and illuminates the economic crunch experienced by families.