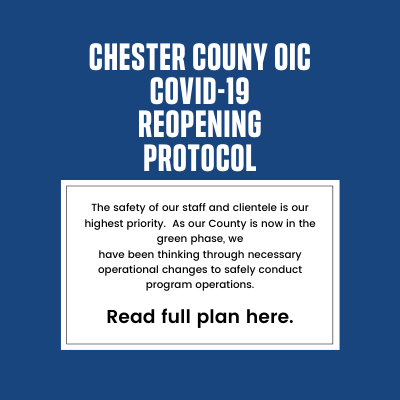 CCOIC: COVID-19 Reopening Protocol
COVID-19 Reopening Protocol as of 7/1/20
The safety of our staff and clientele is our highest priority.  As our County is now in the green phase, we have been thinking through necessary operational changes to safely conduct program operations.  We are resuming operations in July with the CDC guidelines in mind and the goal of exercising an abundance of caution and precaution.  Staff will be following these protocols:
We will strictly follow all CDC Guidelines for working on site. The wearing of masks, social distancing, hand washing, coughing/sneezing etiquette, cleaning and sanitizing contact points and all other requirements will be observed without fail. Masks, gloves and hand sanitizer will be made available to anyone entering the building.
The front door will be locked at all times during operational hours, and a buzzer system with an intercom and camera will be put into place. Until then, clients must call a staff member to gain building access.
Signs with business hours, safety requirements and contact information will be placed outside.
All staff and program participants will be required to wear a mask and apply hand sanitizer when they enter the facility. Masks must be worn throughout their time in our building.
All staff and clients will sign in as they enter and sign out when they leave our office, without exception.
Regular activity and health screenings are required for all employees.
Staff should not under any circumstance go into the workplace if they or any person they have had contact with show any signs of the virus or other illness.
Signs demonstrating how to properly wash hands and wear masks will be posted, as well an advisory on proper coughing/sneezing etiquette.
All client meetings and classes are by appointment only. Clients may not access the building for any reason outside of a scheduled appointment.
All classroom, instructional and work areas have been reconfigured to maintain social distancing guidelines of 6'.
All common areas and surfaces will be disinfected at the beginning of each day and between sessions.
Sanitation stations will be made available in each work area so that staff can disinfect before and after any scheduled meeting or class.
Designated meeting spaces will be established so that staff do not have clients at their desks. The Wood Room will be available for client meetings and independent computer use for online training. These areas must be wiped down after each meeting.
A secondary copy area has been established to decrease traffic in the Front Desk Attendant's area.
Any special cleaning needs should be communicated to the Front Desk Attendant.
Air purifiers are being placed in each work area to promote better circulation/ventilation.
No more than 25 people may be in the building at any time including staff, clients, contractors and consultants.
These procedures will be updated monthly or as needed.