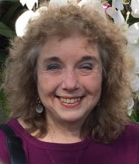 "I Am OIC" Diane's Story
The "I am OIC" program started a few years ago and continues to be a powerful way for our clients, staff, donors and volunteers to express why they are a part of the OIC Family. The following is a story submitted by Diane as she speaks about serving on our Board of Directors:
"Chester County OIC is a transformational force in helping people help themselves through adult education and job training programs. I am truly honored and humbled to serve on the Board of Directors and be a part of the CCOIC mission and the original vision of this community service agency as designed by the founder, Reverend Leon Sullivan. Over the years it has been inspirational to see the hard work, dedication, and expertise of CCOIC staff and volunteers (led by our incredible President and CEO, Joyce Chester) as they give hope, caring support, and provide clear pathways to success for each individual. Each year of our annual Awards Gala it touches my heart to hear the impact CCOIC has made for individual lives as students share their personal success stories. The move to our new headquarters in Coatesville is an exciting time as we develop new programs and partnerships for the future that will continue the proud CCOIC legacy of making a difference."
If you have been touched by OIC we would love to hear your story on how you are a member of the "I am OIC" family. Please email cynthia@ericsonsms.com and include your full name and a paragraph on your experience. If you are comfortable please also attach a picture of yourself, note that testimonials may be included in OIC's social media program and website.