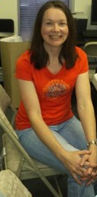 I Am Chester County OIC: Miroslawa's Story
The "I am OIC" program started a few years ago and continues to be a powerful way for our clients, staff, donors and volunteers to express why they are a part of the OIC Family. The following is a story submitted by Miroslawa as she recalls her experiences with our ESL Program:
"I am OIC because it's never too late to learn! I am a 37 year-old Pole and English is my second language. Its been almost two years since I started living in the United States and soon I'm going to apply for US Citizenship. I had been looking for a place where I could study English and prepare for the new naturalization test."
"At Chester County OIC, I found everything I was looking for. I found myself surrounded by students from all around the world. Learning a new language doesn't only mean learning its grammar. You need to experience the language by talking, reading, and listening. OIC provides everything starting with the most important—professional and experienced ESL teachers."

"Now I have completed my second semester in my ESL/ Civics class. I plan to make an appointment for my citizenship interview and in the fall continue at MY OIC–in the GED class. In the future I hope to get a job or to start college."
If you have been touched by OIC we would love to hear your story on how you are a member of the "I am OIC" family. Please email cynthia@ericsonsms.com and include your full name and a paragraph on your experience. If you are comfortable please also attach a picture of yourself, note that testimonials may be included in OIC's social media program and website.