Chester County OIC Hosts Ribbon Cutting on MLK Day of Service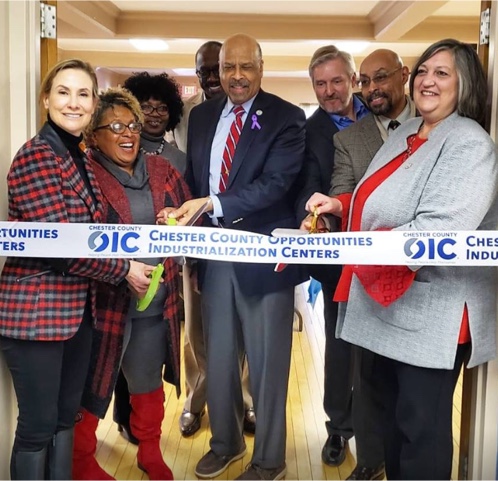 Guided by the principles of Rev. Dr. Martin Luther King, Jr., Chester County OIC hosted a ribbon cutting ceremony on January 21st, 2019 at their new headquarters, located at 22 N. 5th Avenue in Coatesville. This marks the official opening of their doors to the community.
Thank you to everyone who made the day so special including the community of Coatesville, Chester County Commissioners, Pastor/State Representative Dan Williams, Coatesville City Council President Linda Lavender and other council members, Assistant City Manager James Logan, Mayor Clifford DeBaptiste, Pastor Wayne Croft, Coatesville Flower Shop, Western Chester County Chamber of Commerce, Triple Fresh Inc., and James Hanes and Jason White of OIC of America.
"Chester County OIC is proud to return to the city of Coatesville. We are happy to celebrate the organization's 40th anniversary in the community where we began." Said Joyce Chester, CEO of the non-profit organization.
Chester County OIC was awarded a HUD grant to purchase the former location of the Coatesville Senior Center this past year and has plans to renovate the space to accommodate all of their programs including GED, English as a Second Language, Certified Nurse Aid Training, and re-entry training for justice-involved young adults ages 18-24 years old. These programs available for Chester County residents are made possible through grants from the Department of Labor and Pennsylvania Department of Education.
For more information, call (610) 692-2344 or visit www.ccoic.org