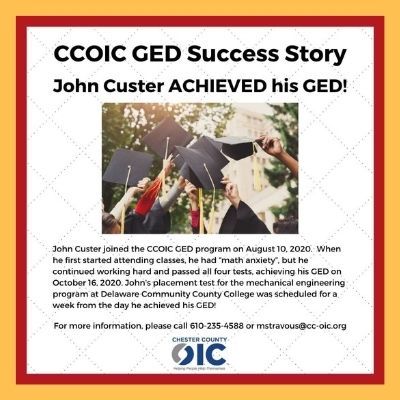 CCOIC SUCCESS!
John Custer ACHIEVED his GED!
John Custer joined the OIC GED program on August 10th. Prior to attending our program, John had attended a two-year trade school. In this program, he was assured that he would have a high school diploma when he completed the program. When he graduated the program, he received a certificate that he was told was a "high school diploma". He shared this with two successive employers. Later when attempting to apply to college, he discovered that the trade school was not accredited to issue a valid high school diploma, so his diploma was not accepted by the college. This brought John to the doors of OIC in search of a GED program. When John went through the intake process on August 10th, he shared his goal of attending DCCC in January to get an associate's degree in the area of machine and tool/die cutting.
He had been working in the machine industry for years and eventually wanted to get a degree in mechanical engineering. He began attending classes in our CareerLink GED program. John came every day to the Exton GED class through August and half of September. When he first started attending classes, he told Steve that he had "math anxiety", but after several days in the program, felt very confident and committed himself to working hard and gaining the math knowledge needed to pass the GED. His instructor, Steve Kincaid, said that he often worked 4-5 hours per day on math problems. When John's work hours increased to 10 hours days, from 11:00 a.m. to 9:00 p.m., he had to cut his class attendance back to 2 hours or less per day. This did not deter him from his goal. He continued working hard and passed all four tests, achieving his GED on October 16th. 2020. John's placement test for the mechanical engineering program at DCCC was scheduled for a week from the day he achieved his GED.
For more information, please call 610-235-4588 or mstravous@cc-oic.org