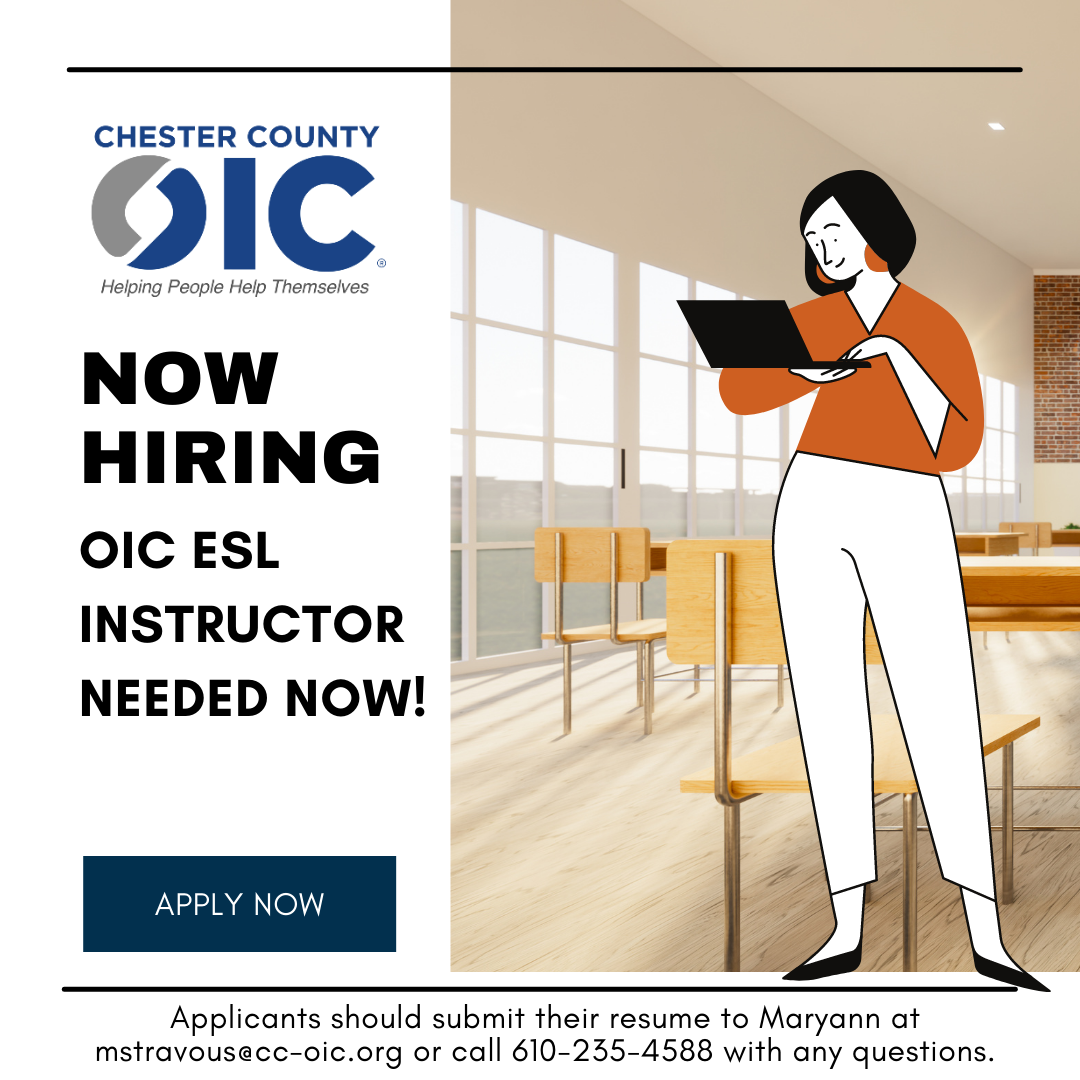 Now Hiring – Chester County OIC
EVENING ESL INSTRUCTOR NEEDED NOW!
Location Oxford & Kennett Square, Pennsylvania
Exciting opportunity as an Evening ESL Instructor. The position is Part-Time with 5 Instructional hours per week. Wages are paid hourly.
Duties & Responsibilities
Instruction in reading, writing, speaking, pronunciation and grammar of the English language must be given to adult students who wish to improve their command and use of the English language. The instructor will utilize a curriculum chosen by the Director of Education which will be distributed to the students. They will complement the use of this curriculum with other resources that may include materials obtained from the OIC office, library, or on-line sources. Instruction must be planned and delivered for the level of the English language students in the instructor's class.
Create and maintain weekly lesson plans based on the students' individual learning plans. These are based on student assessment and goal setting completed prior to the start of class. The College and Career Readiness Standards written by the PA Department of Education will be made available to you to use as a framework for making lesson plans.
Meet program performance goals as determined by PA Department of Education (Division of Adult & Post-Secondary Education).
Maintain attendance records and submit these to the Director of Education on a weekly basis.
Participate in professional development opportunities – 6 hours mandated per contract year. Monthly meetings will be held for all instructors to discuss current educational development in the field and to share classroom successes and challenges.
Contribute to overall program improvement.
Minimum Requirements
BA/BS or higher from an accredited U.S. college or university.
Excellent communication skills.
Multimedia teaching skills.
Ability to manage a multi-educational level class.
APPLY NOW!
Please contact Maryann Stravous, Director of Workforce Education / CCOIC at: mstravous@cc-oic.org or call 610-235-4588.