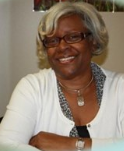 "I Am OIC" Margaret's Story
The "I am OIC" program started a few years ago and continues to be a powerful way for our clients, staff, donors and volunteers to express why they are a part of the OIC Family. The following is a story submitted by Margaret as she speaks about her experience working at OIC as a program assistant:
"While transitioning between full-time employment and retirement, I realized that I was not ready to stop working entirely. Though I continued to remain active as a volunteer, I still wanted to apply my knowledge and skills in an office setting.

I was connected to the Chester County OIC through their partnership with the Goodwill Senior Program. Working as Goodwill Scholar Program. Working as a Program Assistant allows me to use my people skills to interact with and support the clients that our department serves. This role also provides a unique opportunity for me to dedicate and honor the servicemen in my family, who have served the United States military in various branches and capacities.

Now working at the Chester County OIC, it warms my heart knowing that I am making a difference in the lives of those who have given so much of themselves for our country.

I am successful because…I am OIC!"
If you have been touched by OIC we would love to hear your story on how you are a member of the "I am OIC" family. Please email cynthia@ericsonsms.com and include your full name and a paragraph on your experience. If you are comfortable please also attach a picture of yourself, note that testimonials may be included in OIC's social media program and website.