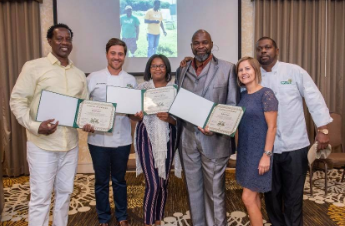 Congratulations to the FRESHStart Kitchen Program Graduates!
Chester County OIC would like to congratulate the three students that completed The Chester County Food Bank's FRESHStart Kitchen Culinary Program on August 12th.
We would especially like to congratulate Daryll and Shaqueena as they walked into the doors of OIC over 10 weeks ago and were brave enough to start a new thing! We would lastly like to thank Chef Ranney, Chef Wayne and Ms. Amy and any other food bank staff for their hard work, dedication and will—- this program is about more than cooking!
The FRESHStart Kitchen is a 12-week culinary job training program provided by the Chester County Food Bank. Participants receive a set of professional cooking materials, ServSafe Managers certification, resume assistance, any many more assets for those looking to enter a culinary career. Call 610-692-2344 to learn about applying for the September 16th session.