Join in celebrating 67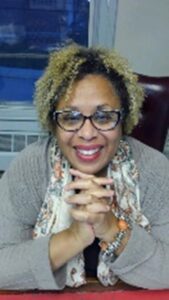 This year, as OIC celebrates 41 years in Chester County, Joyce Chester will be celebrating 67 years on her upcoming birthday!
According to scholars, the number 6 represents many things: responsibility, gratitude, honesty, sacrifice, integrity, service to others and … money. The number 7 implies spiritual development, enlightenment, inner wisdom and intuition.  Together, this number (67) symbolizes a solid financial position for the future and by virtue of this request, the future of Chester County OIC. 
In lieu of our 41st Annual Awards Celebration (cancelled due to COVID) or birthday chachkas (always appreciated but how many chachkas does one need), please join in celebrating this auspicious occasion by extending the favor to CCOIC.  Your gift will benefit our students directly.  Students like John C:
Before John joined the CCOIC GED program on August 10th he attended a two-year trade school. Upon graduation, he received what he was told was a "high school diploma".  When attempting to apply to college, he discovered that the trade school was not accredited, so his diploma was not accepted. This brought John to CCOIC. He shared his goal of attending Delaware County Community College to get an associate's degree in the area of machine and tool/die cutting. He'd been working in the machine industry for years and eventually wanted to get a degree in mechanical engineering. When he first started attending classes, he mentioned that he had "math anxiety", but after several days in the program felt very confident and committed himself to working hard and gaining the math knowledge needed to pass the GED. His instructor, Steve Kincaid, said that he often worked 4-5 hours per day on math problems. When John's work hours increased to 10-hour days he cut his class attendance back to 2 hours per day. This did not deter him from his goal. He earned his GED on October 16th, 2020. John's placement test for the mechanical engineering program at DCCC was scheduled a week from that day.
We look forward to continuing this work and these wonderful stories of success.  You can help too.  Please consider a gift today --

$.67                     100,000 gifts
$6.70                   10,000 gifts
$67.00                 1,000 gifts
$670.00              100 gifts
                                        $6,700.00           10 gifts
                                        $67,000.00         1 gift
My birthday goal is $67,000.  As you can see … I'm thinking big.  But everyone can play a part.
Scholars say 67 can be a sign of wealth, abundance and success in the near future.  I believe!  Thanks for supporting my big day and our work at Chester County OIC!  Your response by December 15th 2020 is appreciated.
 #Joyce Chester 67 for Chester County OIC!