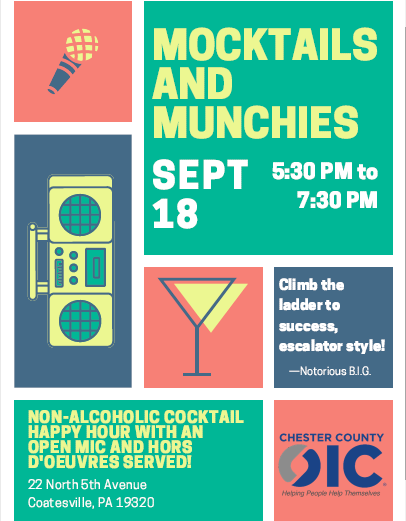 Mocktails & Munchies at CCOIC!
Join CC-OIC for Mocktails & Munchies!
September 18, 2019 from 5pm-7pm
At Mocktail night, we welcome all to have a good (non-alcoholic) mixed drink to leave it on the stage! Whether your talent lies in monologues, rapping, singing, poetry or comedy, we welcome you to come enjoy this free show and demonstrate your skills if you feel inspired to.
Please sign up with Mr. Fred Sharpe at fsharpe@cc-oic.org or stop in at Chester County OIC 22 N 5th Ave. Coatesville, PA 19320. If you RSVP to this event, you will receive a drink and plenty of delicious hors d'oeuvres. You are surely to leave this event fulfilled in mind and tastebuds!