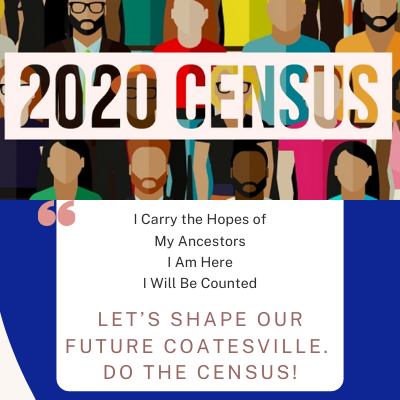 Do the Census!
The 2020 Census will determine congressional representation, inform hundreds of billions in federal funding every year, and provide data that will impact communities for the next decade. It is also used to draw congressional and state legislative districts. When we do the census, we make public benefits better for our local Coatesville community.
Don't worry, the census will never ask for your citizenship status, your social security number, or any form of payment. And you can very easily fill out a census form in one of three ways:
Fill out the form online at 2020census.gov
If you were mailed a paper form, mail it in
Fill out the census by phone at 844-330-2020
Please note that if you use a P.O. Box to receive your residential mail, you will NOT receive any mailing from the Census Bureau. However, if you have not yet been contacted by the Census Bureau, you can still fill out a form online with your name and address.
More on the Census …
The United States Census is a national SURVEY conducted every 10 years by the U.S. Census Bureau to COUNT the population, and is required by law. The survey has nine questions and takes about 10 minutes. The questions are simple:
• How many people were living in your house on April 1, 2020?
• Do you rent or own your home?
• Gender, race, age, ethnic group, and relationship to you?
The survey asks for people's names to ensure that each household member is counted only once. Names are replaced with a random # when your information is input, and NO PERSONAL INFORMATION is shared with any other federal agency, including ICE and law enforcement.
Why does being counted matter?
For Chester County, EACH person counted, including newborns and children, brings approximately $2,093 into your Community, every year for 10 years! This money funds programs like Special Education, Head Start, SNAP (food stamps), Section 8 housing and Women's Infants and Children (WIC), plus health programs serving our veterans, seniors and the most vulnerable populations in our community. And with the unprecedented impact of COVID-19, we need those funds more than ever!
The Census data also help determine where new roads, supermarkets and schools will be needed in your Community.
When We Don't Complete the Census We Put Local Programs at Risk!
Public funding from the federal, state and local government supports the following programs in our community:
• Programs for seniors' transportation, health and nutrition programs
•            Health insurance (Medicaid, Medicare), health care centers, hospitals, and community health programs
• Food and nutrition-SNAP (food stamps), National School lunch program, and WIC (Woman, Infants, and Children program)
• Education-Head Start, funds for special education
• Housing and energy assistance including Section 8, Senior housing and the LIHEAP program
• Highway and infrastructure programs
• Veterans Care & Services
Let's "Make Coatesville Count"
Our goal is to increase the number of community members completing the 2020 Census Survey and to spread the word. Together, we must encourage, motivate, and inspire everyone we can reach to complete this year's Census.
The deadline for completing the survey is September 30, 2020.