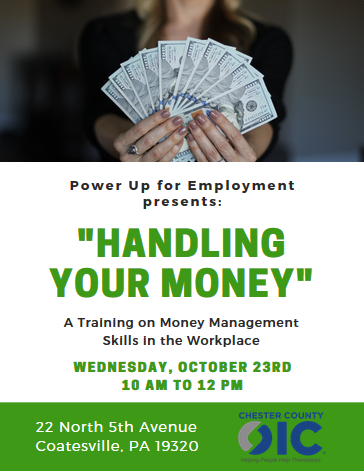 CCOIC's "Power Up" Series Presents Their Money Management Seminar!
CC-OIC's POWER UP SERIES
"Handling Your Money" October 16, 2019 from 10 am-12pm
Learn basic financial and budgeting skills that may not have been taught in school or family settings. From checking accounts and cashing checks, to using your bank account to your benefit by saving or investing, come learn about skills that can help you level up your finances! The workshop, led by Fred Sharpe & Donna McFadden, includes a free consultation with a financial wellness coach!
To RSVP please email Ms. Margaret Hamilton mhamilton@cc-oic.org with the subject MONEY and the message: CONFIRMATION with your (name) and (phone number). Or call 610-692-2344 and RSVP with the Receptionist.