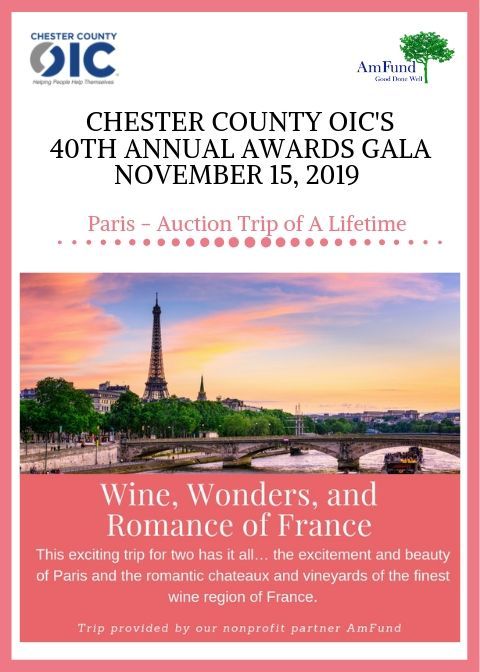 40th Annual Gala "Trips of a Lifetime" Auction: Wine, Wonders, and Romance of France!
CCOIC will hold its 40th Annual Awards Gala on Friday, November 15, 2019 at the Desmond Hotel, in Malvern PA.
For our 2019 event, we will be hosting an exclusive "Trips of a Lifetime" Auction sponsored by the nonprofit organization AmFund. These bucket list trips will be good for three years with no blackout dates, they include deluxe accommodations, round trip airfare and a travel specialist to do all of the booking for you!

One of the trip offerings during the auction is a trip for two to Paris, France. Enjoy a romantic chateaux and wine from the finest region of the country as well as gorgeous views of the Eiffel Tower and the charm of the Parisian arts and culture.
Bidding will only be open during Cocktail Hour! So come ready to BID, WIN & TRAVEL in support of CCOIC!
PURCHASE TICKETS NOW!
https://www.eventbrite.com/e/chester-county-oic-40th-annual-awards-gala-tickets-69204635929